Spork Marketing 2010 WordCount Blogathon Sponsor
Last year, my lovely wife Sara Lancaster participated in the 2nd annual WordCount Blogathon, offering some good blogging tips in the process. Sara is participating again this year in the 2010 WordCount Blogathon, and thanks to her I've decided to offer a free blog SEO review and analysis to a randomly chosen participant.
About the Blogathon: Writers and bloggers from a wide range of backgrounds agree to write a blog post every day during the Month of May. For all you non-Math majors, that's 31 blog posts. It's a commitment, and everyone who participates for the entire month is eligible to win cool prizes.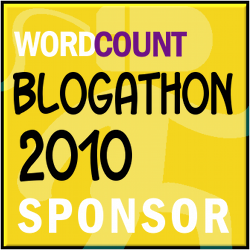 This free SEO review will include:
A technical review of all the important on-site elements of SEO. Things like unique title tags, keyword-sensitive links and URI's, well-written META description tags (not an SEO thing technically, but definitely important), complete and proper HTML code (like using header tags, completing image alt tags, etc.), and then I'll do a few checks to see if the search engines are aware of the blog.
A list of 10 fixes that I hope will be easy to implement. In addition to the technical review, I'll offer a quick how-to list for the top 10 opportunities I find.
The best part? You don't have to participate in the Blogathon to see the SEO review! I'm going to publish it right here on the Spork Marketing blog.
So, if you have a blog or website and you're interested in making it more search-engine-friendly, be sure to subscribe (via email or RSS) so you can see the results of our SEO review.
Special thanks to Michelle Rafter of WordCount for giving me this opportunity!